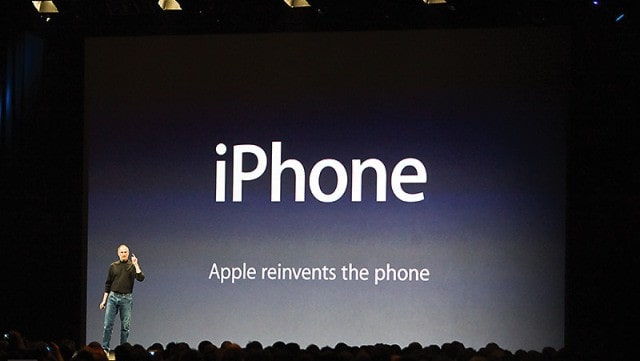 The iPhone is one of the world's most iconic devices and, in the grand scheme of things, it isn't very old. But when did it begin? Where did the idea come from?
The very first iPhone was unveiled in January 2007 at the MacWorld convention. Steve Jobs revealed what Apple had been developing for nearly 3 years and, for its time, it represented the cutting edge of technology.
The device was introduced as an iPod with a wider screen, controlled by touch instead of physical buttons. In short, it was a mobile phone and a device to communicate with the internet. At the time, Jobs told the audience that this device would "reinvent the phone".
While revealing the design of this new device, Jobs took time out to make fun of the current smartphones on the market, ones that relied on a physical keyboard and were unwieldy to use.  He showed off how simple it was to control a phone using simple touch gestures on a screen and the audience were hooked.
7 years on, from that unveiling, the iPhone is still top of the hill. At one time, market shares did start to decline, especially as they were under constant attack from cheaper smartphones, such as Samsung and LG. However, there last couple of devices have seen that share shoot straight back up, allowing Apple to keep on polishing their crown.
So, to commemorate 7 years of the iPhone we're going to look at each different iteration that Apple released:
1.      June 29th 2007 – First iPhone, called iPhone 2G, released
The iPhone 2G was a GSM model and dictated the future of the form factor for the iPhone.  Since its release, Apple has stayed with the same form, only making minimal changes. When it was released, it earned the nickname, the "Jesus Phone" because people were so amazed at its capabilities.
The iPhone 2G was released in 3 separate storage models – 4 GB, 8 GB and 16 GB.
2.      July 11th 2008 – iPhone 3G
Following on just a year after the first one, Apple released their second iPhone.  They introduces a couple of new features, like Assisted GPS and a 3G connection. The iOS was given an update and now included features such as Push email and turn-by-navigation. This was the first iPhone to be accompanied by the revolutionary new Apple App store, where users could find third-party apps to help them in their day to day use of the iPhone.
3.      June 19th 2009 – iPhone 3GS
The iPhone 3GS was the first iPhone to receive an interim update, denoted by the S. Apple produced an upgraded 3G with a faster processor. It had a much higher resolution camera on it that could capture an astonishing (for its time) 480p video and support was included for voice controls.
4.      June 24th 2010 – iPhone 4
Apple broke the mold with the iPhone 4, making it the very first to have an incredible high-resolution display, known as Retina.  As well as that, they gave the iPhone camera an update, making it 5 megapixel and they added in a front camera for video calling.
This was the first iPhone to receive a design change, the rounded rear panel replaced with a flat one, giving the iPhone the honor of being classed as the thinnest smartphone in the world.  The phone was given a stainless steel frame and a brand new, all-singing, all dancing A4 processor, designed to help with the multitasking functions.
5.      October 14th 2011 – iPhone 4S
Apple changed their release cycle with the iPhone 4S, moving it to the fall rather than summer months.  The iPhone 4s proved to be the best that Apple had ever released.  It got a camera upgrade, to the 8 megapixel iSight camera that we know and love today, with the ability to record video at 1080p.
It got a brand new processor, the A5 dual core chip and it got Siri. Siri is Apple's very own intelligent voice assistant that changed the way we used our iPhones.  With the iPhone 4S we got access to iCloud and iMessage. We got a notification center and reminders and Apple even gave is Twitter integration.
The iPhone 4S was released just 9 days after the death of Steve Jobs after he lost his battle with pancreatic cancer.
6.      September 21st 2012 – iPhone 5
When the iPhone 5 was released, it broke all sales records to date. And no wonder. It had a dual core A6 chip in it. The display grew to 4" and the 30-pin connector that they had always used was gone, replaced with a digital lightning connector.
The iPhone 5 got an aluminum frame instead of stainless steel, making it lighter than ever before. It was also the very first iPhone to include LTE support.
7.      September 20th 2013 – iPhone 5S and iPhone 5C
For the first time ever, Apple released 2 iPhones in one hit.  The iPhone 5C is an upgraded version of the iPhone 5 with a polycarbonate shell in 5 different colors. The iPhone 5S was a work of art, the new flagship for Apple.
Not only did it contain a revolutionary new processor, the A7 64-bit – twice as fast as the iPhone 5 – it also contained another processor, the M7 Motion Control coprocessor. It had Touch D, a fingerprint sensor embedded in the Home button.
The camera was given a bigger aperture and a dual LED flash and the iPhone 5S got the privilege of being the first to run on the all-new iOS 7 firmware.  At the time of release, the iPhone 5 was discontinued, a little more than a year after release.
8.      Other recent developments – Jailbreaking and Unlocking
Whilst Apple is still working on developing newer, faster, and more innovative technology, people outside Apple have been slowly tinkering with ways to modify and upgrade the iPhone in ways that Apple doesn't quite approve of…
Jailbreaking, the process of hacking into the iPhones operating system for the purpose of being able to adjust the way the iPhone operates, first hit the scene only a few short months after the first iPhone was released. Frustrated hackers wanted to be able to use a whole range of tools that Apple deemed unsatisfactory for the iPhone. After only a little bit of tweaking and testing, teams such as Evasi0n were able to break into the operating system and make the adjustments they wanted.
The battle between hackers and Apples programmers has continued with each new release of the iPhone operating system and will continue as long as Apple attempts to control what people can and can't do on their devices.
Unlocking, the process of removing carrier restrictions from your iPhone, is also another recent development in the iPhones history. With the sharp rise in popularity in smart phones, phone service providers became increasingly insistent on making sure their customers didn't leave them once they had their iPhone and move to another carrier.
To prevent this happening, iPhones were 'locked' to each carrier so that wandering customers couldn't have the freedom they wanted. This restriction spawned an entire industry built around helping people get past these restrictions.Guides on how to unlock your iPhone started popping up all over the internet and people started moving freely between carriers.
Recent laws introduced in America as part of theDigital Millennium Copyright Act reforms have made unlocking illegal but that hasn't slowed the tide of people leaving their carriers for better deals.
So. What's next?  There will be another iPhone this year, maybe 2 if rumors are correct.  The rumor mill is over spilling with news of Apple releasing iPhones with larger screens, perhaps 4.7", although some say 5".
All we can do is wait and see because Apple sure aren't giving away any hints.